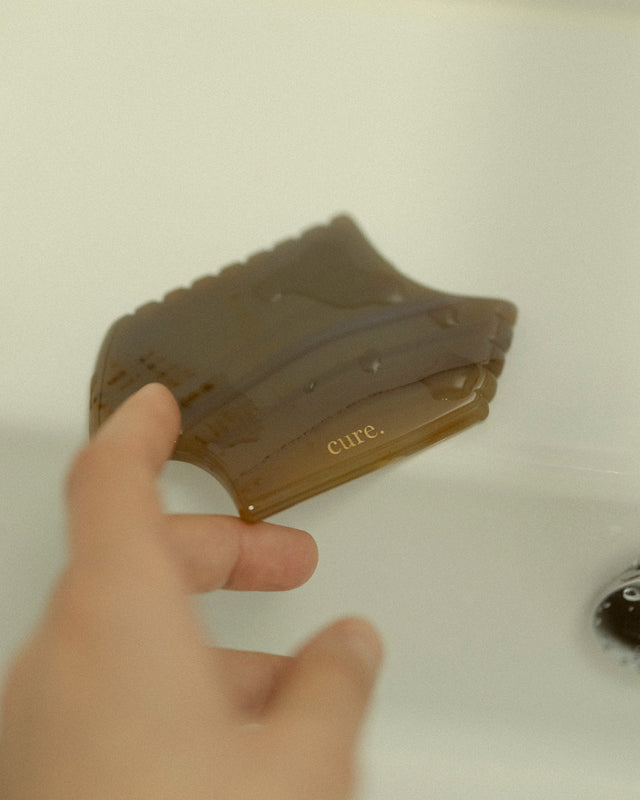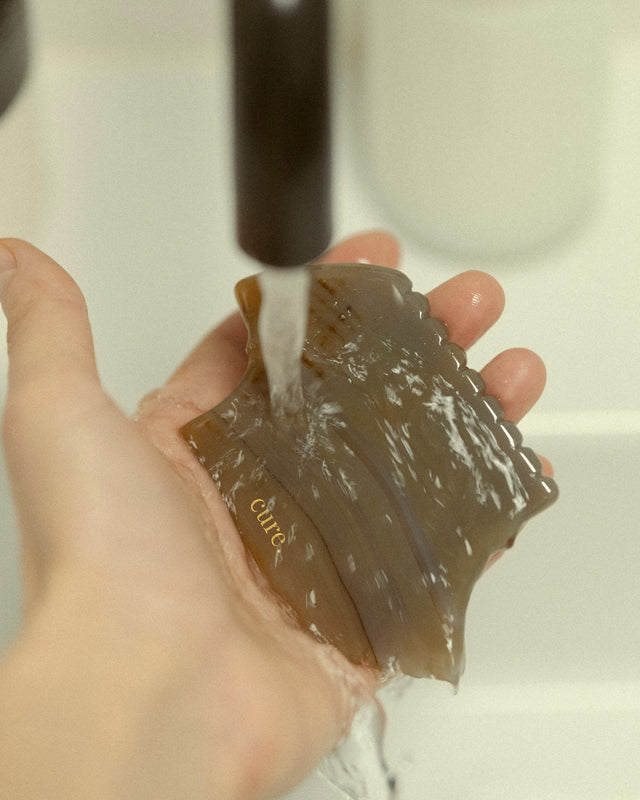 Natural Agate Gua Sha For Face & Body Massage
Due to its shape, agate Gua Sha is multifunctional: it is suitable for the neck, face, head, massage, as well as for body rituals.
Effects we want to achieve
Lymphatic drainage massage. The movement of the lymph helps to remove toxins from the body. Also, due to the work on the lymphatic pathways, the water balance of the cells is restored.
Gua Sha massage strengthens and relaxes the muscles of the face and neck, which contributes to the lifting effect and maintaining facial skin tone.
A 

body ritual can be done to relax, detox, relieve tension and sore muscles, and get rid of and prevent the appearance of cellulite.
Guasha Results
Reducing puffiness of the face, dark circles under the eyes, smoothing fine mimic wrinkles and restoring healthy radiance and skin tone.

It's important to know
Gua Sha made of natural stones requires careful handling; with rough use or a fall, the device may break
We recommend rinsing the Gua Sha tool before each use.
If your goal is to tone the skin - we recommend cooling 

the Gua Sha

in the refrigerator (3-4 minutes) or under running cold water; if you want to relax - heat 

the Gua Sha

under a stream of warm running water.
We do not recommend
Using Gua Sha if you have any beauty injections or injuries, or severe acne (we recommend consulting a cosmetologist beforehand).
Gua Sha massage is always performed on top of cosmetic oil or cream; during the ritual, the scraper should form an angle of 45 degrees to the skin surface. These rules also apply to body massage.
All movements in the process of working with the Gua Sha should be smooth and unhurried, and the intensity of exposure to the skin should be medium or minimal.
Gray agate is an ideal stone for Taurus, Capricorn, Gemini, Cancer, Pisces, Libra, Aquarius, and Virgo.

*All face rollers and Gua Sha tools are made of natural stones, each with its own external features; therefore, color, weight, and texture may vary. In addition, the presence of natural shells is allowed on the products. Each face roller or the Gua Sha tool comes with a storage bag.